There's a printer that can bring your pictures, files and ideas to life quickly and easily.
Printing technology has developed considerably in recent years, so if you want to upgrade an older model or you're getting started in home printing, you might be amazed at the exciting new features on modern printers.
We've created this guide to help you learn more about the most important things to consider when buying a printer, and to help you find the one that best meets your needs.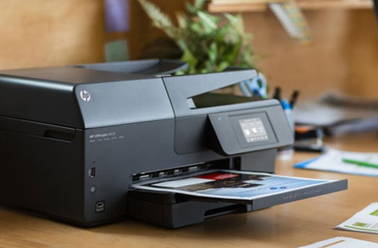 ---
From simple home printers for occasional use to complete office solutions and everything in between, there's a printer that will work for you.
What are Inkjet printers?
From mobile printing to dealing with the occasional ream of school, college or university work, inkjet printers are ideal for everyday home use.
Typically, inkjet printers deliver better photographs than laser printers, with a number of high quality inkjets making the most of everything from smartphone snaps to high quality DSLR photography. Generally, a full set of replacement ink cartridges are cheaper than laser toner too, making them perfect for home and photographic use.
Laser printers are designed for more frequent use and are suitable for offices or homes that regularly print in large amounts. Perfect for black and white documents and high speed batch printing, laser printers are built for demanding use.
While toner cartridges cost more than their inkjet counterparts, their page yield is higher (typically over 1400 pages). So while the initial purchase and toner price may seem high, the cost-per-page can work out cheaper over time.
What are All in one printers?
Combining a scanner, copier and printer, all-in-one printers provide everything you need for comprehensive home printing. They are available in both inkjet and laser varieties, letting you benefit from home scanning and copying whatever your ink preference.
Some even feature an integrated fax machine, which makes them the ideal printing solution for busy homes and small offices.
Many all-in-ones with fax machines also feature dual and large capacity paper trays, making it easy to switch between high quality photo paper and everyday A4 and A3.
3D printers are gradually becoming more accessible for home use, and offer an exciting entry into rapid prototyping and small scale manufacturing. Whatever you can design, you can create, so whether you want to test-fit parts before expensive machining or simply fancy knocking up a unique phone case, 3D printers make complex manufacturing easy.
---
What type of Printer is right for me?
There are several different types of printers to suit different needs, uses and people. Whether you're a student, business user, photographer, or simply need to print the odd ticket or family photo, we have a printer that will work for you.
I am a student, what printer should I buy?
Writing a thesis on the evolution of the market economy in the southern colonies? You'll need a printer that can quickly crank out page after page of text - a monochrome laser printer fits the bill.
However, if you want the flexibility of scanning and copying as well, then an inkjet printer will allow you to print in colour and display all of your photo memories
I am a business user, which printer should I buy?
There are a wide range of business printers for both Inkjet and Laser to choose from. A key thing to look out for when you're choosing an office printer is that the print speed is fast enough. Automatic document feeders (ADF) are an invaluable feature for busy offices as they allow you to scan and copy several documents at once, so you're not wasting time standing feeding individual pieces of paper into the scanner. If you plan on printing regularly, check the monthly duty cycle, as this shows you the maximum number of prints that the manufacturer suggests are suitable.
I want to print professional looking photos, what printer should I buy?
We have a range of specialist photo printers which let you print impressively detailed photos at home. These printers use individual inks for each colour to ensure natural colour reproduction, so you're images appear just as they would if you'd had them printed at a photo lab.
---
Wireless printing enables you to print documents from your computer, without the need to connect your PC and printer with a cable. As a result, you'll be able to print from anywhere in your home, allowing the entire family to share a single printer, so you'll save money and reduce clutter.
Can I print from my Android device?
Google Cloud Print allows you to print from any compatible Android or Windows device. This means you can print from devices such as smartphones, tablets, or from any computer without the need to download additional software or drivers. You can send a document or photo to print from wherever you are; whether you're at home or on the other side of the world.
Can I print from my iOS device?
AirPrint is exclusive to Apple devices and allows you to print directly from your iPhone, iPad, Mac or iPod Touch to a printer connected to your WiFi network. Just tap the print button on your device to print completely wirelessly.
---
Ink can be bought either separately or as a combination pack. Including all the cartridges needed for a full top up, combination ink sets cost less than buying separately and offer great value for money.
View all multipack printer cartridges
Extra-large Ink or Toner cartridges offer greater value for money by giving you a high page yield (more pages from a single cartridge), which reduces the cost to print per page.
Page yield is a way to measure the cost of printing each page. This is calculated using industry standard testing guidelines.
While the approximate page yield can be a good guideline for determining general usage allowance, it's important to be aware that page yield can vary depending on the types of pages you choose to print. For example, printing high definition photos will use more ink than basic text documents.
---
Wireless printers connect to your PC or Mac using your home WiFi network and can be accessed from anywhere in your house, meaning you don't even have to be in the same room to print.
Several computers and mobile devices can use the same printer, which can be placed in the most convenient location for you and your household.
If you want to wirelessly print from a tablet or smartphone, you'll need a printer that features AirPrint, Google Cloud Print or email printing. See below for more information.
Wi-Fi Direct/Wireless Direct
WiFi Direct provides a wireless connection between a printer and device, even if no WiFi signal is present - perfect for homes and offices without a wireless network or in an office as a backup should the network go down.
Near field communication (NFC) is a relatively new feature to printers. Often included on tablets and smartphones, it allows two devices to connect simply by touching together, making syncing a printer with another NFC device effortless.
Look for NFC as a highlighted feature on our range of wireless printers.
Email printing is a feature available on selected HP printers and provides wireless printing from any email capable device. Each printer has a unique, customisable email address and once connected to your home WiFi, prints any images or text documents it receives.
Most manufacturers have their own version of email printing. Look out for 'email printing' as a highlighted feature within our printing range.
DPI stands for dots per inch and is a basic measure of print quality. A printer with a higher DPI delivers clear, detailed pictures although other factors such as ink play a part in overall print quality
If you're looking for vibrant, lifelike photographs, a good quality inkjet printer provides enhanced colour reproduction and the glossy, developed-photo look that makes for a fantastic printed image.
We highlight print rate on all of our printers. Measured in pages per minute (PPM) for text and images per minute (IPM) for photographs, you should consider print speed if you regularly print in large amounts.
Monochrome printers exclusively print black and white documents. Monochrome laser printers feature higher print speeds over everyday inkjet printers.
The most commonly printed page size is A4 and the vast majority of our printers print in this format. Many printers also print smaller, so whether you want the familiar 6 x 4 developed-photo size or specialist envelope sizes, most accept a wide range of photo and document paper.
For larger prints, we stock a range of A3 printers that print in various sizes up to A3. Some are no bigger than A4 printers, making them ideal for small offices or homes where space is at a premium.
Auto duplex is a handy feature that gives you the choice to automatically print on both sides of the paper, helping you look after the environment while saving money in the process.
An automatic document feeder (ADF) allows you to scan or copy multiple documents simultaneously, without having to manually insert individual pages.
They can be found on scanners and all-in-one printers and are usually located on top of the scanner or within the main paper tray.
Many printers feature a memory card slot. This makes is possible to print directly from an SD or memory card without the need to connect to a PC. Simply pop the card in and use the printer's screen to select the documents you need.
OCR stands for optical character recognition and is a feature found on a number of scanners and all-in-one printers. OCR allows a scanned document to be converted into a word processing document that can be edited on a PC or tablet. While this usually only applies to printed text documents, some models feature handwriting recognition too.
HP Instant Ink is an instant ink replacement service - ordered by your printer, delivered to your door.